The rehabilitation center contains 100 ample living quarters that are accessible and comfortable for the patient and accompanying persons.

Modern design of rooms in secession style directed on awakening at the patient of motivation to treatment of illness. All furniture, doors, parquet are made of a natural birch which is known for the curative properties. All it is supplemented with use of flax - a natural and ecological pure fabric. Bed-clothes, curtains and cloth from natural flax owing to the tenderness, pastel tones, antiallergic properties and minimal electrization create an especial atmosphere in chambers of the center. Summer cool and warmly of this material bring comfort, freshness and cosiness in the winter.

In consideration of the special needs of residents all rooms are equipped bathrooms area of 5m square.

Residents can use all standard services – laundry, ironing, clothes repairing etc. Room security is provided by electronic locks.

There are cafeteria, playing room for children, comfortable lounges decorated in secession style created for the people's rest and health recreation.

All suites are equipped with a telephone, refrigerator/freezer, TV, and internet connection. The bathrooms are spacious and designed for the needs of our patients.
Smoking is prohibited in all the premises of the rehabilitation center.

Single room with bathroom
Single room ~29 sq m. with view to south east. Bathroom ~ 5.5 sq.m. with bath tub.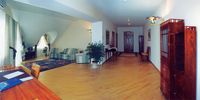 Large triple room
Large triple room with two beds, sofa and soft chair ~ 50 sq.m and with balcony.
Bathroom ~ 8 sq.m. with bath tub.
Two room suite
Large two room apartment with drawing-room and bedroom with view to the south east side,
Drawing-room ~68 sq.m. with antique furniture, sofa, soft chair, writing-table.
Bedroom with double room. Each room with air-conditioner.
Bathroom ~ 10 sq.m.
Three room suite
Three room suite with drawing-room, two bedrooms, corridor, loggia with east and south view.
Each room has separate loggia, separate bathroom and air-conditioner.
Drawing-room ~40 sq.m. with antique furniture, sofa and soft chair.
Bedrooms ~ 36 sq.m. each one with double bed and one with two beds.
Three bathrooms ~12 sq.m. each.
Large three room suite
Large three room suite with drawing- room and two bedrooms, large balcony and with south view. Every room has air-conditioner.
Drawing-room ~ 45 sq.m. with antique furniture, sofa, soft chair.
Two bedrooms ~ 23 sq.m. with one with double room and other with two beds.
Two bathrooms - one large ~10 sq.m. with bath tub and shower, second ~ 5 sq.m. with shower.